Dulcimer Kit - 15/14 Size: The pin blocks, sides and internal braces are made of hard maple. The back is 1/4" birch plywood. The top/soundboard is 1/4" African mahogany plywood. The bridges are also of hard maple. All wooden parts are carefully cut to provide a precise fit. Detailed directions provide many diagrams and step-by-step instructions. All hardware, including music wire and pins, is included. The only supplies needed are glue and finishing materials. Minimally, an electric drill, clamps, and basic woodworking skills are needed to successfully complete your hammer dulcimer.
All of our kits include:
an L shape plastic handle tuning wrench
set of rough cut playing hammer blanks
full size pin holes drilling template

First Tunes

booklet
tuning chart
step-by-step directions.
Enhance your kit with the following upgrades
---
Upgrade: Music Wire - $50
This upgrade will make a subtle difference in tone quality, especially for the lowest tones on the instrument. If you are a hobbyist making a new project, you might want to spend this $50 somewhere else. If you are a budding musician who is looking forward to learning and enjoying your new musical instrument, this music wire upgrade may be a good investment.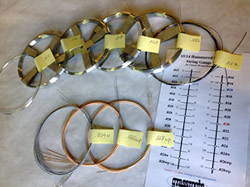 When you upgrade, we will take out the original 3 coils of music wire that come with this 15/14 kit, and include the following:
20 ft - .015 music wire
40 ft - .016 music wire
40 ft - .018 music wire
40 ft - .020 music wire
40 ft - .022 music wire
10 ft - .024 music wire
4 ea - .024 phosphor bronze wound loop end
4 ea - .026 phosphor bronze wound loop end
2 ea - .028 phosphor bronze wound loop end
revised stringing chart
---
Upgrade: Solid Spruce Soundboard - $125
We include laminated pin blocks with our solid spruce soundboards. It has been our experience that the subtle movement of solid wood pin blocks, due to seasonal temperature and humidity changes, will cause a solid wood soundboard to split.
From your kit, we take out the 2 solid maple pin blocks and the mahogany plywood soundboard. In place we include the following:
2 - laminated pin blocks cut to exact size
1 - solid spruce soundboard, glued up and sanded to 1/4" thickness and cut to approximate size, 2 - 2" sound holes drilled
---
-Click here to view the String Gauge Chart
-Click here to view the Tuning Chart
---
You also may want to consider:
Dulcimer Kit - 15/14 Size
Related Products